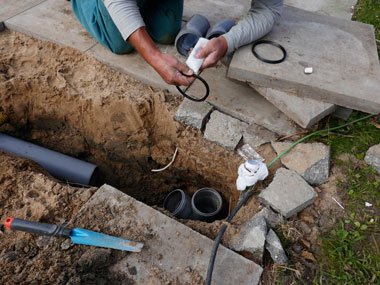 At Streamline Plumbing & Trenchless Sewer Repair, we provide high-quality sewer replacement options in the Oakland, CA, area. With over 30 years of service, our team has the knowledge to efficiently determine what is causing your sewer issues and repair them. We provide a camera inspection that allows us to figure out the extent of the damage and provide a free estimate.
Sewer line problems are caused by old pipes, damaged pipes, root intrusions, offsets, and wrongful disposal. Your system may have a problem if you notice leaking pipes, a dip in the ground above your main sewer line, backups in the toilets and shower, sewage coming out of your cleanout, or sinks draining slowly.
You may also have a sewer line problem if the water levels vary in the toilet or if you notice water spots in the basement or foul smells coming from right outside your home. Streamline Plumbing & Trenchless Sewer Repair can assess these problems by doing a sewer inspection of your sewer lateral.
Sewer Lateral in Oakland? Get Replacements When You Need Them
Streamline Plumbing & Trenchless Sewer Repair uses the latest trenchless sewer methods and pipe-bursting technology when repairing and replacing broken sewer systems. This method is a low-impact option that is minimally invasive to your property. It is a type of trenchless sewer replacement option. This means that we won't have to dig up your yard to get to the pipe to fix it. Usually, there's an entrance hole and an exit hole.
Find Specialized Workmanship You Can Trust
We strive to give you quality workmanship on all of our sewer repairs and replacements. You can trust us for your construction projects, remodels, and emergency needs. Streamline Plumbing & Trenchless Sewer Repair complies with EBMUD PSL Ordinance. We specialize in sewer replacement. Because we focus solely on it, we know the best ways to replace your sewer(s).
You can trust Streamline Plumbing & Trenchless Sewer Repair to respect your time and property when we do a sewer lateral replacement for your system. We have 24/7 emergency service options for sewer repairs. Don't hesitate to call us at (510) 481-0380 if you think you need to have your sewer line replaced in Oakland, CA.